1970 Camaro Exhaust System


1970 Camaro Small and big block exhaust system kit comes with the following: Correct 2 1/4" head pipes with flats and wrinkles, correct flanges, extensions, donuts, correct 2 1/4" over the axle pipes with wrinkles in all but first bend because that is the way the General did it. Correct transverse muffler with flats on top as original, correct 2" tail pipes with correct angle cut and correct bracket welded on. Our chrome tail pipes are done as originals, completed, cut, chrome plated and fixtured back and welded back together. This kit comes with guillotine style clamps for attaching the components although the purist may want to weld it as original. Heat risers and stud kits are available as well as all the correct hangers. Ask about our concours show pkg. for those who look as raw steel as second best.
| 1970 Z/28 Camaro Exhaust Kit | Gardner Exhaust New Repro Flattened Camaro Muffler |
| --- | --- |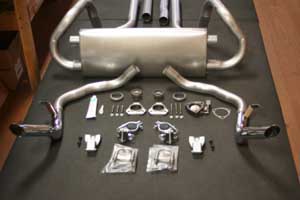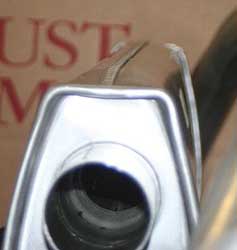 1970 Z/28 Restored By Car Guys Appearance Center Equipped With Gardner Exhaust System
1970 RS Z/28 Restored By Ed Hinman Equipped With Gardner Exhaust System

"
1970-1973 Camaro Muffler Hanger:
These hangers are
one of only a few pieces we offer that are not one of our reproduction pieces. We have always said that it is not necesarry to reproduce a piece if it is being made properly. Both this muffler hanger and the tail pipe hangers are excellent reproduction pieces, we know this because we helped in the reproduction process by lending out our originals. This hanger comes zinc plated to aid in logevity
1970-1974 Camaro Tail Pipe Hangers:


These hangesr are a very nice reproduction of the original and come with the correct screws to help hang the tail pipe properly. They come zinc plated to aid in longevity.
| | |
| --- | --- |
| 1970 Camaro Tail Pipe: This tail pipe is the correct tail 2"pipe for the 1970 Camaro Z/28, SS, and RS Our tail pipes are done as original pictured here, they are completed, cut, brackets are welded on, the front portion is sent out for chrome plating. After chrome plating the pipe is fixtured back and welded back togther. | |