1971 1973 Firebird and Trans Am Exhaust System
1971 - 1973Firebird Exhaust system came with both 2" and 2 1/4" head pipes. The std. duty dual exhaust cars all were outfitted with 2" head pipes 2 1/4" over the axle pipes with 2' tail pipes. The heavy breathing Ram Air cars were equipped with the same size tail pipes and over axle pipes but 2 1/4" head pipes to help get the exhaust gasses more quickly out of the motor. If that wasn'tgood enough a few even stepped it up to the Super Duty's which came standard with 2 1/2" head pipes and over axle pipes and 2 1/4" tail pipes. Our FirebirdExhaust systems have been reproduced from originals and come with the correct head pipes with correct flats, correct over axle pipes, correct tail pipes with exact original bracket welded on, correct transverse muffler, GM style clamps, installation instructions, diagrams and sealant. Reproduction cast flanges, muffler hangers and tail hangers are available with our systems as well as our reproduction chrome tips. Ask about our concours show pkg. for those of us who like the restoration to be a little more real than real.
1971 Firebird Kit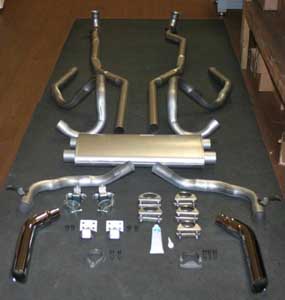 Steve Tishcler's 1971 Firebird Trans Am Equipped With Gardner Exhaust
\

Steve Siegel's 1972 455 Trans Am Equipped With Gardner Exhaust


1973 Firebird Super Duty Head Pipes, Over Axle Pipes and Tail Pipes

1973 Firebired Trans Am Super Duty Equipped With Gardner Exhaust

\

"
1970-1973 Firebird Muffler Hanger:
These hangers are
one of only a few pieces we offer that are not one of our reproduction pieces. We have always said that it is not necesarry to reproduce a piece if it is being made properly. Both this muffler hanger and the tail pipe hangers are excellent reproduction pieces, we know this because we helped in the reproduction process by lending out our originals. This hanger comes zinc plated to aid in longevity
1967 - 1974 Pontiac Clamp

These clamps are absolutely correct for any 1967 to 1974 Firebird restoration. There has never been a high quality reproduction of this clamp. Our clamps have been reproduced from the clamp picturted here come zinc plated and are available with any of our 1967 - 1974 firebird exhaust systems.
1970-1974 Firebird Tail Pipe Hangers:


These hangesr are a very nice reproduction of the original and come with the correct screws to help hang the tail pipe properly. They come zinc plated to aid in longevity.
1970 - 1973 Firebird Chrome Exhaust Extensions:
Our 1971 - 1973 Reproduction Firebird chrome tips are an excellent reproduction of the original seen here. Our tips are distinguised only from original by the part number that can't be seen on the inlet of the tip once it is inserted into the tail pipe, and our superior chrome plating. These tips are available with any of our 1971 - 1973 Firebird or Trans Am exhaust systems.