1971-72 Buick Skylark / GS Exhaust System
The 1971-72 Buick Skylark / GS Exhaust system kit has been reproduced from original pipes and original drawings. The standard exhaust system used 2 1/4" head pipes and 2" tail pipes. Our system comes as a kit with the correct size headpipes with correct flats, correct flanges, correct size mufflers logo deleted and correct tail pipes with angle cuts All the correct hangers, clamps and screws for ease of installation are included as well as installation instrucstions and diagrams. Strap clamps and retainers are available to the purist who has to have it the way it left the General.

(N-25 tail pipes and hangers also available)

Ask about our performance package for our customers who are lucky enough to have the big old ground pounding 455

1971 - 1972 Buick GS Kit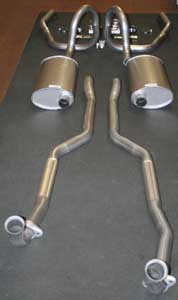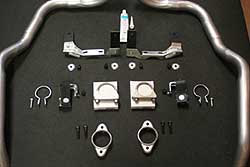 1971 Buick GS 455 Undercarriage Restored by Jim Weis of Trishield Performance Equipped with Gardner System
19

"
1968 - 1972 GM A- Body Front Hanger

These hangers are correct for 1968-1972 GM A-Body Exhaust Systems.For the longest time the only hangers available were actually for the 1964 - 1967 GM A body's. Alltough th hangers look extemely similar and will work just fine That is not good enough for Gardner. The hangers you see here are identilcle reprodutions of the unique 1968 to 1972 GM A body hangers. They have been painstakenly reproduced from our originals and come zinc plated hand built with lthe correct corded rubbers and button head rivets, zinc plated retainers and correct screws. They come standard with our 1968-1972 GM A body exhaust systems and are a Gardner Exclusive reproduction.
1964 - 1972 GM A - Body Tail Pipe Hangers:

These hangers are a reproduction of the orginal hangers used on a good portion of the GM A - Body Muscle Cars. These are our handbuilt hangers with corded rubbers and our reproduction button head rivets and are for those who have to have it just the way the car came from the factory. The hangers pictured here are a Gardner Exhaust Exclusive Reproduction. A similar hanger comes standard with our kits along with the correct screws pictured here.
1971 - 1972 Buick GS N - 25 Hangers

These hangers are the correct hangers used on the 1971 -1972 Buick GS's equipped with the through the bumper exhaust. Although they are not one of our reproductions they are of excellent quality and we offer them with our 1971 and 1972 Buick exhaust systems.



1971 - 1972 N-25 Tips

These tips were used on the 1971 and 1972 Buick GS's with the N-25 through the bumper exhaust option. Althought these tips are not our own reproduction we have compared them to original and they are a nice reproduction. We offer them with any of our reproduction N-25 exhaust systems.



1964 - 1972 GM A - Body Retainer

These retainers were used on the GM A - Body Muscle cars on the muffler hangers. The attaching screw first went through this reatiner and then through the rubber. The reatainer functioned as a washer to protect the rubber on the hanger. Our retainers have been reproduced from the orginal in the picture and come zinc plated. They are a Gardner EXhaust exclusive reproduction and come standard with our concours show pkg. or can be optioned for with one of our entire systems.



964 - 1972 GM 2" Strap Clamp

This strap clamp was used on many of the GM - A Body Muscle Cars. It was used to attach the tail pipes to the tail pipe hangers. Our strap clamps have been reproduced from an original and come zinc plated with the correct sheet metal screw. They come standard with our concours show pkg. or can be optioned with one of our entire systems.