1970 Nova

The 1970 Nova dual exhaust system consisted of 2 1/4" head pipes on both the big block and the small block cars. The small block cars had the pipes necked down to 2" at the manifold while the big blocks were expanded up to 2 1/2". Both systems used 2 1/4" over the axle pipes and 2" tail pipes ending mid way back behind the rear wheel and the bumper, resonators were used on the small block cars. Our system comes reproduced from originals and includes the correct head pipes with wrinkle bends, correct over the axle pipes, correct tail pipes with angle cut and flats, extensions, donuts, correct rounded bottom clamps, and guillotine clamps, tail pipe hangers, installation instructions diagrams and sealant. Our reproduction muffler hangers are availble with one of our kits and once again we are the only company reproducing this particular piece. Ask about our concours show pkg. if original is not good enough.



1970 Nova Big Block Exhaust Kit


1970 Nova Big Block Deep Tone Head Pipes Next To Gardner Reprodutions

1970 Yenko Deuce Owned by Allan Ives Equipped With Gardner Exhaust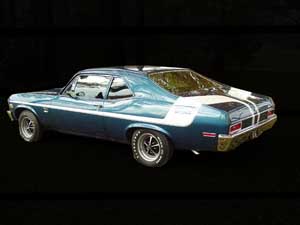 "
1968 -1972 Nova Front Hanger:

The 1968 -1972 dual exhaust Novas used unique front exhaust hangers pictured here. These hangers are no longer available. If you are lucky enough to come up with a used pair, they probably would look something like these originals. Our reproduction hangers come in a pair zinc plated with corded rubbers, correct screws, and correct size rivets and backing plates. These hangers are available with one of our concours 1968 -1972 Nova Exhaust Systems.

1970 Nova Tail Hangers:
These hangers are another Gardner
Exhaust Exclusive Reproduction. Original hangers used backing plates, smaller rivets nnd corded rubbers. Our hangers are hand built to replicate the originals and come with the correct tapping screws.
1970 Nova Dual Exhaust Right Over Axle Pipe:


This is the 2 1/4" pipe that connects to the end of the head pipe and goes into the transverse muffler on all dual exhaust Novas from 1968-1969 It can be seen next to the original it was copied from.