1970 - 1972 Corvette LT-1 and Big Block Manual and AutomaticTransmission Systems

The 1970-1972 Corvete Exhaust systems for the LT-1 small block and big block manual transmission cars both consisted of 2 1/2" front pipes and rear pipes" 2" outlet mufflers with chrome extensions.The small block system had a swaged down 2" section on each of the front pipes which no company other than Gardner offers our original pipes consisted of wrinkle bends on both the small blocks and big blocks front and rear pipes so that is the way we build them.. Our kits come 14 ga aluminized with the corect front pipes, correct flanges, extensions, donuts, sealant, guillotine clamps, mufflers, installation instructions and diagrams. Reproduction muffler hangers are available as well as heat riser and stud kit. Our system comes with flats in the rear pipes as original and guillotine clamps for center exhaust hanger but opened style clamps for tips. Ask about our concours show pkg. for the hobbiest who can't stand surface rust.




1970 - 1972 Corvette Automatic Small Block Non HP Exhaust Kit

1970-1972 Corvette Small Block Non HP Rear Pipes Next To Gardner Reproductions

1970 Corvette Big Block Manual Transmission Exhaust System Next to Gardner Reproductions

1970-72 Corvette LT-1 Exhaust System Next To Garrdner Copies

1971 Corvette 454 Manual Trnansmission Owned by Joe Greer Equipped With Gardner Exhaust
"

1970 LT-1 Corvette Restored by Chuck and David Anderson Equipped With Gardner Exhaust
1972 Corvette 350 4 Speed Undercarriage Owned by Don Lowe Equipped With Gardner Exhaust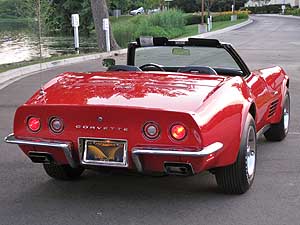 1970 - 1971 Corvette Tips

Although these tips are not our own reproduction we have compared them to originals and they are a very nice reproduction. They are chrome platedd as original and come with the correct notch on the top of the tip. These tips were used on all the 1970 corvettes and a portion of the 1971's. They are available with either of these systems.
1968 - 1972 Corvettte Muffler Hangers

The hangers we offer for this application are the correct GM replacement hangers. They come with the correct screws and attaching hardware. They can be compared to the orgiinals at the lower right of the the accompanying picture