The 1970 -72 Chevelle Model year dual exhaust systems consisted of 2 1/2" head pipes and 2" tail pipes. The small blocks accomplished this by reducing the head pipes down to 2" at the manifolds. Both the big blocks and the small blocks had 2" tail pipes with resonators but each resonator was quite different. The small blocks had a 2" tip with an angle cut in it. All of the big block cars from 1970 -1972 had a dome shaped resonator which ended at 2 1/2" allowing for the chrome tip. Our reproducion exhaust kit comes 14 ga aluminized with correct 2 1/2" head pipes with wrinkles and flats, correct extensions, donuts, flanges, mufflers, 2" tail pipes with correct resonators welded on, correct GM style clamps, installation instructions, diagrams and sealant. Our exclusive reproducion hangers are available with this system, as well as correct GM heat riser and stainless steel stud kit with correct lock nuts. Ask about our concours show pkg. for those who like it just a little bit better than original.

Ask about our turbo mufflers for a little extra roar!
| | |
| --- | --- |
| 1970 Chevelle SS Stock Exhaust Kit | 1970 - 1972 Chevelle Small Block Custom No Resonator Kit |

1970 Chevelle SS L-S6 Convertible Restored by Jen Jac's Restoration Equipped with Gardner Exhaust

1970 Chevelle LS-6 Restored by Michael Mulvey Equipped With Gardner Exhaust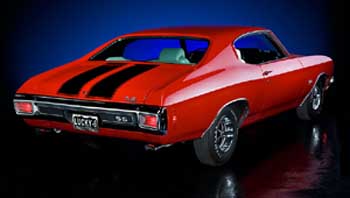 1970 Chevelle SS 396 Restored By R &M Restorations Equipped With Gardner Exhaust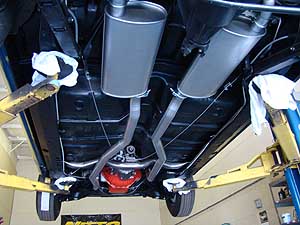 Eric,
Exhaust system went together great... It's finally nice to have something that is advertised "Bolt On" to actually fit!!! Thanks Gardner Exhaust, and I highly recommend your product to anyone and for our builds that require stock systems... The team at R & M Performance


Matthew J Hutchins
VP Of Operations
R & M Performance LLC



"
1970 Chevelle SS original head pipes and tail pipes next to Gardner Exhaust Copies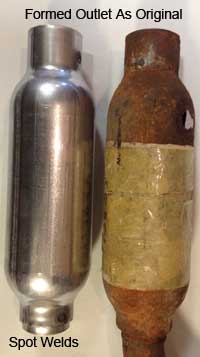 1968 - 1972 GM A- Body Front Hanger

These hangers are correct for 1968-1972 GM A-Body Exhaust Systems.For the longest time the only hangers available were actually for the 1964 - 1967 GM A body's. Alltough th hangers look extemely similar and will work just fine That is not good enough for Gardner. The hangers you see here are identilcle reprodutions of the unique 1968 to 1972 GM A body hangers. They have been painstakenly reproduced from our originals and come zinc plated hand built with lthe correct corded rubbers and button head rivets, zinc plated retainers and correct screws. They come standard with our 1968-1972 GM A body exhaust systems and are a Gardner Exclusive reproduction.
1964 - 1972 GM A - Body Retainer

These retainers were used on the GM A - Body Muscle cars on the muffler hangers. The attaching screw first went through this reatiner and then through the rubber. The reatainer functioned as a washer to protect the rubber on the hanger. Our retainers have been reproduced from the orginal in the picture and come zinc plated. They are a Gardner EXhaust exclusive reproduction and come standard with our concours show pkg. or can be optioned for with one of our entire systems.



1969 - 1972 Chevelle SS Tips

Although these tips are not one of our own reproductions they are an excellent copy of the Original tips did not have a part number, however, NOS tips do. These reproduction tips do not have any stampings and are as close to factory as possible. They are an option with our 69 -72 SS Chevelle Systems.
1970 Chevelle SS Tail Pipe Hangers

These hangers are a Gardner Exhaust Exclusive Reproduction. Original hangers accomplished two things, they not only hung the tail pipe, they clamped down on the chrome extensions as well. Our hangers are reproduced from original hangers come zinc plated, built with tire rubbers as original as well as our reproduction button head rivets. These hangers come with the correct built in J to hook over the top of the frame rail. As with all of our reproductions we encourage you to compare them to the original. (scroll over pictures to enlarge)