1969 GTO
The 1969 GTO Came equipped with a few different exhaust systems. The 400 std. duty cars recieved 2" head pipes with 2 1/4" tail pipes. Automatic cars used a resonator on the end of the tail pipes but exited out of the resonator with a 2" angle cut spout. The manual cars had a 2 1/4 tail pipe that exited at the back bumper. Chrome extensions were an option on the Manual cars only. Chrome extensions for these cars had a slight bend in the tip correcting the geometires of the tail pipe allowing the tail pipes once the tip was on to look like they were comeing straight out the back of the car. If you opted for the high output version 2 1/4" head pipes were subustituted for the 2" version. Our systems come 14 ga aluminized with correct head pipes with correct flats where applicable. Correct flanges, correct unequal length mufflers, correct tail pipes, reproduction resonators, gm clamps, reproduction muffler and tail hangers, installation instructions, diagrams and sealant. Chrome tips are avaialbe as well as a concours show pkg. for the person when original is not good enough.

Ask about our Turbo Mufflers for those who want the system to look original but just have to have a little more noise!

| | |
| --- | --- |
| 1969 GTO HO Manual System | 1969 GTO Std. Duty Automatic System |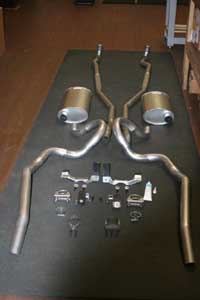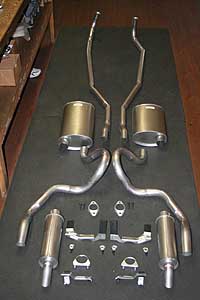 1969 GTO HO Left and Right head pipes next to Gardner Exhaust Reproductions



1969 GTO Manual Left and Right Tail Pipes Next to Gardner Exhaust Reproduction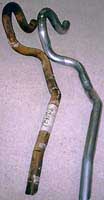 1969 GTO Left Automati Tail Pipe Next To Gardner Exhaust Reproduction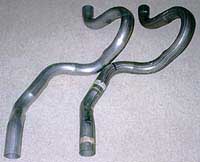 John Kryta's National Show Winning Manual Transmission GTO Judge Equipped With Gardner Exhaust System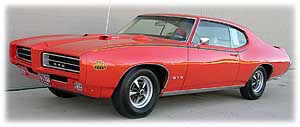 1969 GTO HO Automatic Restored by Nyle Wing and Wings Auto Equipped With Gardner Exhaust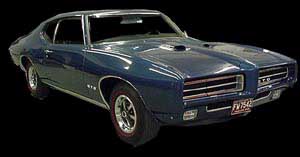 1969 GTO Judge Automatic Equipped With Gardner Exhaust

1968 1972 GTO Muffler Hangers

1968 - 1972 GTO's hangers originally had a small bulge to correspond to the bulge in the clamps that Pontiac used during the day. These clamps and hangers are an exclusive Gardner Exhaust reproduction and will put your GTO over the top in exhaust restoration correctness. The hanger pictured here comes zinc plated, and hand built with corded rubbers and button head rivets to simulate the original and are availble with any of our 1968 - 1972 GTO exhaust systems.
1966 - 1972 GTO Round Bottom Clamp

These clamps are absolutely correct for any 1966 to 1972 GTO restoration. There has never been a high quality reproduction of this clamp or the hanger above that corresponds to it. These clamps are a Gardner Exhaust exclusive reproduction they come zinc plated and are available with any of our Pontiac exhaust systems
1964 - 1969 GM A - Body Tail Pipe Hangers:

These hangers are a reproduction of the orginal hangers used on a good portion of the GM A - Body Muscle Cars. These are our handbuilt hangers with corded rubbers and our reproduction button head rivets and are for those who have to have it just the way the car came from the factory. The hangers pictured here are a Gardner Exhaust Exclusive Reproduction. A similar hanger comes standard with our kits along with the correct screws pictured here.



1967 - 1969 GM 2 1/4 " Strap Clamp

This strap clamp was used on many of the GM - A Body Muscle Cars. It was used to attach the tail pipes to the tail pipe hangers and on the 1969 manual ttransmission GTO's to attach the tips to the tail pipes as well. Our strap clamps have been reproduced from an original and come zinc plated with the correct sheet metal screw. They come standard with our concours show pkg. or can be optioned with one of our entire systems.
1964 - 1972 GM A - Body Retainer

These retainers were used on the GM A - Body Muscle cars on the muffler hangers. The attaching screw first went through this reatiner and then through the rubber. The reatainer functioned as a washer to protect the rubber on the hanger. Our retainers have been reproduced from the orginal in the picture and come zinc plated. They are a Gardner EXhaust exclusive reproduction and come standard with our concours show pkg. or can be optioned for with one of our entire systems.