1967 Mopar B - Body Muscle Car Exhaust Systems


For the 1967 Model year we concentrate our interest on two Mopar Muscle Car Exhaust Systems the 426 system comes with the correct 2 1/2" H - Pipe with correct flats for the torsion bar, correct welded on heat nipple, correct welded in cross over pipe, correct flanges our H - Pipe necks down to 2 1/ 4" where it goes into the muffler because that is the way it was done. Our 440 system used the same tail pipes and components however, the 440 H - pipe uses welded on flanges and had flats in the bottom as well as a flat on the left hand side for the torsion bar. Both kits come with the correct hemi style mufflers with correct flats, non decor tail pipe with correct angle cut and weep hole, or GTX tail pipes swaged to accept GTX tip. Rounded bottom style mopar clamps, correct double loop muffler hangers, and tail pipe hanger, installation instructions diagrams and sealant are also included. Ask about our concours muffler hangers and show package for the guy who wants to compete on the show circuit. GTX tail hangers are available as an option.


| | |
| --- | --- |
| 1967 440 GTX Kit | 1967 440 Non Decor Kit |

1967 GTX 440 H-PIpe Next To Gardner Reproduction

Sean Ward's 1967 Dodge Coronet R/T Equipped With Gardner Exhaust System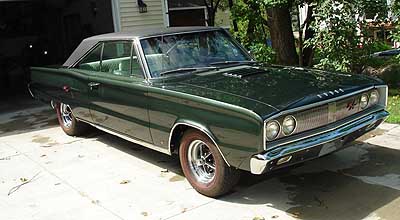 1967 GTX 440 Restored by Clark Restorations Equipped With Gardner Exhaust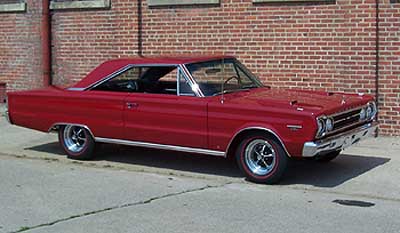 \ \\\\
| 1966 - 1970 Hemi H - Pipe Nex To Gardner Reproduction | |
| --- | --- |
| | |
1966 - 1967 Mopar B - Body Tail Pipe Next To Gardner Reproduction

"
1966 - 1969 Mopar B - Body Muffler Hangers
Although this hanger is not our reproduction we do offer a very similar hanger that comes as part of our ki along with the correct u - nut and screwt. This hanger is a dead on ringer to the original piece that outfitted these cars and is an option with any of our 1966 - 1969 426 or 440 exhaust systems
1967 GTX Tail Hanger
Although this hanger is not our reproduction we are pleased to offer it. This hanger is an excellent reproduction of the original hanger and we offer them zinc plated with the correct attaching hardware. It is available on one of our 1967 GTX exhaust kits.
1966 - 1967 Mopar B - Body Tail Hagers:


The hangers pictured here are another Gardner

Exhaust Exclusive Reproduction. Our hangers have been reproduced from the original pictured here. They come zinc plated built with corded rubbers and the correct flat head rivets and include the correct j - nut and attaching screw. They are available with one of our 1966 -1967 426 Exhaust Systems