1966 Oldsmobile 442

The 1966 Oldsmobile 442 exhaust system consisted of 2 1/4" head pipes and 2 1/4" tail pipes with a chamberd section within the tail pipe The oultet of the tail pipe used a stainless steel rolled tip on the end to accentuate it. Our reproduction exhaust system for these cars comes with the correct head pipes, flanges, tail pipes with correct wrinkle bends and chambered section, correct perforated internals, and stainless steel rolled tips welded to outlet. The kit also includes correct mufflers, installation instructions, diagrams, sealant, clamps and correct front and rear hangers. Ask about our concours show pkg. for those of us when original is not good enough.
1966 442 Gardner Exhaust Kit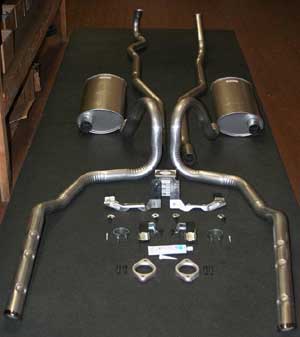 1966 442 Right and Left Head Pipes Next To Gardner Exhaust Systems

1966 Oldsmobile 442 Left Head Pipe Next To Gardner Exhaust Reproduction

1964 - 1972 GM A- Body Front Hanger

These hangers are correct for 1964-1972 GM A-Body Exhaust Systems They come standard with any of our GM A Body reproduction exhaus systems.We offer them zinc plated built with corded rubbers to simulate the original bias tire rubbers. Step up to our crush the competition package and we will build them by hand with our original button head rivets.
1964 - 1969 GM A - Body Tail Pipe Hangers:

These hangers are a reproduction of the orginal hangers used on a good portion of the GM A - Body Muscle Cars. These are our handbuilt hangers with corded rubbers and our reproduction button head rivets and are for those who have to have it just the way the car came from the factory. The hangers pictured here are a Gardner Exhaust Exclusive Reproduction. A similar hanger comes standard with our kits along with the correct screws pictured here.



1964 - 1972 GM 2" Strap Clamp

This strap clamp was used on many of the GM - A Body Muscle Cars. It was used to attach the tail pipes to the tail pipe hangers. Our strap clamps have been reproduced from an original and come zinc plated with the correct sheet metal screw. They come standard with our concours show pkg. or can be optioned with one of our entire systems.
1964 - 1972 GM A - Body Retainer

These retainers were used on the GM A - Body Muscle cars on the muffler hangers. The attaching screw first went through this reatiner and then through the rubber. The reatainer functioned as a washer to protect the rubber on the hanger. Our retainers have been reproduced from the orginal in the picture and come zinc plated. They are a Gardner EXhaust exclusive reproduction and come standard with our concours show pkg. or can be optioned for with one of our entire systems.