1965 GTO
The 1965 GTO came equipped with one of two exhaust systems The stock system used 2 1/4" head pipes and 2" tail pipes. If the car was optioned as a stick shift 3/2 BBL car than the head pipes were the same but the tail pipes started as a 2 1/4" tail pipe with a welded in resonator and exited out of the resonator at 2". Splitters were an option that added a unique looking extension exiting under the rear quarter panel. Our system is reproduced from an original and comes with the correct flanges, correct head pipes with flats, correct mufflers, correct tail pipes with angle cut on full length systems, correct splitter tail pipes on splitter systems, and correct resonator tail pipes for stick shift 3/2 BBL. cars, muffler hangers, correct tail pipe hangers, correct GM style clamps, intstallation instructions, diagrams and sealant. Splitter hangers and splitters are on option, as well as a concours show pakcage for the hobbiest who wants it a little more real than real.

Ask about our turbo mufflers for a little extra roar!
1965 GTO Stick Shift 3/2 BBL Kit With Splitters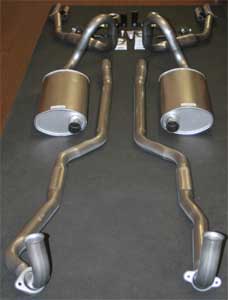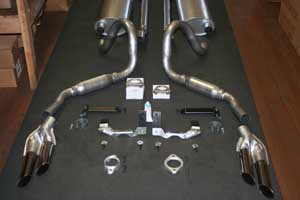 1965 GTO 4bbl. Manual and Automatic Kit With Splitters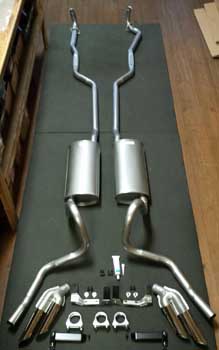 1964 - 65 GTO Right and Left Head Pipes Next To Gardner Reproductions

1964 - 65 GTO Std Duty and Stick Shift 3/2 BBL. Right Tail Pipe Next To Gardner Reproductions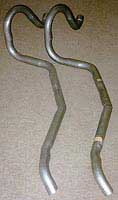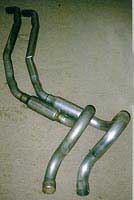 Tim Burgess's GTO National Winning 65 GTO Stick Shift 3/2 BBL Equipped With Gardner Exhaust System

"
1964 - 1972 GM A- Body Front Hanger

These hangers are correct for 1964 -1972 GM A-Body Exhaust Systems They come standard with any of our GM A Body reproduction exhaust systems. We offer them zinc plated built with corded rubbers to simulate the original bias tire rubbers. Step up to our crush the competition package and we will build them by hand with our original button head rivets.



1964 - 1969 GM A - Body Tail Pipe Hangers:

These hangers are a reproduction of the orginal hangers used on a good portion of the GM A - Body Muscle Cars. These are our handbuilt hangers with corded rubbers and our reproduction button head rivets and are for those who have to have it just the way the car came from the factory. The hangers pictured here are a Gardner Exhaust Exclusive Reproduction. A similar hanger comes standard with our kits along with the correct screws pictured here.



1964 -1965 GTO Splitter Hangers:
These splitter hangers are reproduced from the original above. Our hangers come powder coated chassis black built with corded rubbers and button head rivets we encourage you to compare them against originals.
1964 - 1972 GM 2" Strap Clamp

This strap clamp was used on many of the GM - A Body Muscle Cars. It was used to attach the tail pipes to the tail pipe hangers. Our strap clamps have been reproduced from an original and come zinc plated with the correct sheet metal screw. They come standard with our concours show pkg. or can be optioned with one of our entire systems.



1964 - 1972 GM A - Body Retainer

These retainers were used on the GM A - Body Muscle cars on the muffler hangers. The attaching screw first went through this reatiner and then through the rubber. The reatainer functioned as a washer to protect the rubber on the hanger. Our retainers have been reproduced from the orginal in the picture and come zinc plated. They are a Gardner EXhaust exclusive reproduction and come standard with our concours show pkg. or can be optioned for with one of our entire systems.
1964 - 1965 GTO Splitters

The splitter pictured here is not our reproductions, however we do offer it with our systems. The reproduction is the only available and although there are some differences between it and our original pictured here the splitter look is something many of 64 and 65 owners strive for.